Established in 1985, VSTECS (Singapore) Pte Ltd is a member of the VSTECS Group. As a leading ICT distributor in the Asia Pacific region, VSTECS has access to a network of more than 25,000 channel partners across China, Thailand, Malaysia, Singapore, Indonesia, the Philippines, Cambodia and Myanmar. The VSTECS Group is listed on the Hong Kong Stock Exchange (0856.HK). ECS Computers provides a comprehensive range of ICT products and services through its three core businesses - Enterprise Systems, IT Services and Distribution. Integrated solution offerings from industry-leading ICT vendors are provided to customers through its wide and established channels.
Your preferred IT Training Provider
ECS Training Division aims to provide its clients with the technological enablement that becomes the basis of their competitiveness. Offering the most up-to-date and relevant training of information and technology, each detailed course enhances your competitiveness and prepares you for the fast paced environment you are working in today and in the future.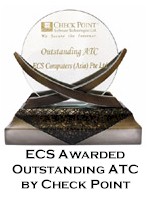 Why Train with ECS
At Your Service
Experienced and knowledgeable enrolment team to provide you with the required information to make your IT training plans more structured and efficient
Internet-ready classrooms to let you view recommended technical resource websites more readily during class.
Internet-ready classrooms to let you get in touch with your organisation, especially during breaks.
Professional Team
Proficient team of Training Engineers to ensure the knowledge garnered has immediate practical value in your area of work. Comprehensive, Up-to-date and Practical Curriculum
Comprehensive, Up-to-date and Practical Curriculum:
Comprehensive curriculum to provide you a one-stop shop for your enterprise training needs.
The latest and most up-to-date versions of software are used.
In-dept coverage of topics to ensure applicability in the work place<
Extensive Hands-on lab sessions supervised by instructors.
Training room equipped with dual operating systems to enable participants to confidently handle tasks in a heterogeneous environment. <
Strategic Advantage
Tapping on the current value-added distributorship of VSTECS (Singapore) Pte Ltd, you could enjoy cost savings with bundling for hardware, software and training services.
Comprehensive Training Programs:
Consistent with the latest IT trends and technologies
Technology acquisition, assimilation and development – ECS' established training team is well equipped with the required technical knowledge and presentation skills.
Clients also receive practical advice on how to enhance productivity, in addition to practical hands-on training and premium quality courses rendered by our engineers.
Professionally Qualified Training Engineers
Our Training Engineers' experience and qualification in various areas of IT enables them to follow our principals' curriculum and deliver them in a proficient and comprehensive manner.
Product Consulting Support
Based on the philosophy of 'Technology is just a tool, People make the difference' ECS Training Division is responsive to its customers' needs and is proactive in providing the best training. By training with the 'People who best support the product' you get value-added training services in a fast-changing technological landscape.
Distributor of Leading-edge Products
As a distributor for leading-edge hardware and software products, VSTECS (Singapore) Pte Ltd is able to tap on its value-added distributorship and the strategic alliances with its principals. This allows ECS Training Division to keep pace with the latest development in IT, enabling it to provide a comprehensive IT product training and support demanded by customers.
Certification Programs
With a firm commitment to technical excellence, ECS Training Division offers professional certification programs to help individuals and organisations maximise their productivity and increase their competitive advantage.
ECS Training Division
Block 19 Kallang Ave, #07-153, Singapore 339410 (near Lavender MRT)
Tel: (65) 6393 4448 Fax: (65) 6291 3912
Email: education@ecs.com.sg