ECS Training Division (Directions)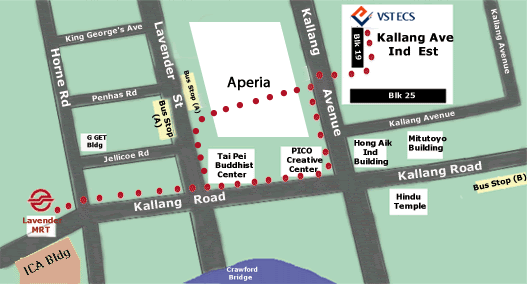 By Train (MRT)
If you are taking the MRT, stop at Lavender MRT station. Walk along Victoria Street towards Kallang Road. Look for Pico building along Kallang Road and turn left into Padang Jeringau. Walk for about 50 m and enter the flatted JTC factory compound on the right.
By Bus
If you are taking the bus, you may wish to note the bus services available.
Bus Stop (A): along Lavender Street
(SBS) 13, 82, 107, 107x, 133, 145 (TIBS) 61, 67, 961
Bus Stop (B): along Kallang RD (aft ERP Gantry)
(SBS) 2, 7, 12, 13, 32, 33, 51, 63, 80, 100, 197 (TIBS) 61, 67, 980

By Car
If you drive, you may park at the JTC carpark at Block 19,Kallang Avenue. Charges are S$0.50 per half hour by electronic parking. Make sure your cash card has enough fund.
By Taxi
Block 19 Kallang Ave, #07-153, Singapore 339410 (Near PICO ART Building)
---
Block 19 Kallang Ave, #07-153, Singapore 339410 (near Lavender MRT)
Tel: (65) 6393 4448 Fax: (65) 6291 3912<
Email: education@ecs.com.sg